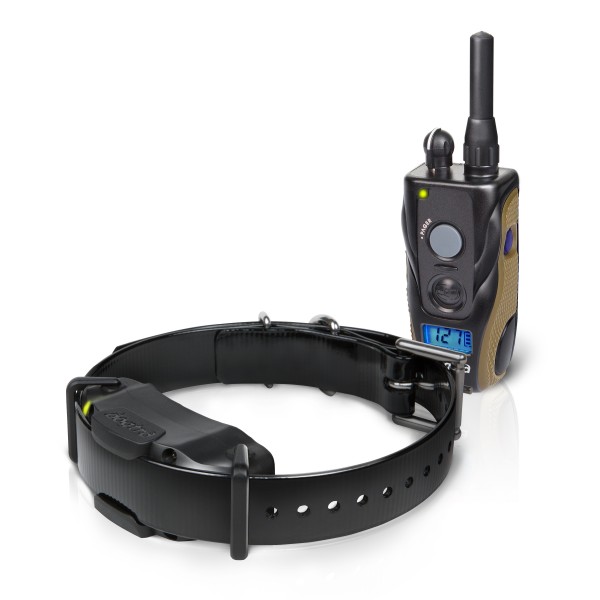 In this Dogtra 1900s review, I'll go over the advanced features of this state-of-the-art big dog electronic dog training collar, highlighting major improvements from the older 1900 NCP version, button layout, and what type of dog and training scenarios are best suited for this model. I'll also mention the pros and cons I have found.
Dogtra 1900s Overview
Released in early 2016, the Dogtra 1900s is an extremely durable, super-duty e-collar. When you hold one in your hand, I think you'll gain a newfound respect for the phrase "quality product." This low- high power unit has a 3/4 mile range and is one of the best large dog remote dog training collars I have seen and used.
The Dogtra 1900s collar is great for large dog companion pet owners, gundogs, pro trainers, police, and military K-9 units. When I'm training larger, tougher breed dogs I always use my 1900s big dog remote training collar. I have trained many dogs over the years with lots of different e-collar brands and models but when it comes to the best big dog remote e-collar, the Dogtra 1900s is about as good as it gets.
The Dogtra 1900s e-collar is a replacement for the popular and proven workhorse; the 1900 NCP. Dogtra took what was a great e-collar and made it even better with some awesome improvements. 
Dogtra 1900s Has All the Key Features as Its Predecessor
127 customizable levels of static stimulation

3 types of correction, including "nick", "constant", and vibration only

LCD screen displays the level of stimulation and 3-bar low battery indicator

Completely waterproof transmitter and receiver collar
Key Improvements of the Dogtra 1900s E-Collar
Smaller, low profile, ergonomic slim-line receiver

Longer 3/4 mile range (compared to 1/2 mile)

Longer lasting, 2-hour quick charge LiPo batteries

Enhanced water-repelling contact points

Non-slip checkered grips on the transmitter

High-performance non-stimulating Pager
One of the nice things about the Dogtra 1900s collar is that it is low-to-high power (127 levels) so it can be used with any dog temperament from super soft disposition dogs to tough, high-drive dogs.
Dogtra low-to-high power units tend to have a relatively larger transformer, making the receiver collar a bit larger and heavier. As such, Dogtra 1900s collar is not recommended for dogs under 35 pounds to wear comfortably. The receiver collar weighs 4.2 ounces and 6 ounces when it has a strap.
If you have a larger dog and are looking for the most durable and reliable e-collar on the market that will last many, many years under the harshest of conditions, look no further than the Dogtra 1900s e-collar.
Dogtra 1900s Review – Transmitter (Remote)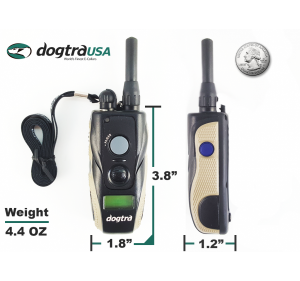 The Dogtra 1900s transmitter has a more rounded, modern design – it is not as boxy as the original version. It weighs 4.4 ounces and the dimensions are 3.5″ x 1.4″ x 1.4.″
The 1900s e-collar has the typical, easy-to-use Dogtra 3-button layout. On the face of the transmitter is the Pager button. On one side is the blue On/Off button and on the other side are the 2 light gray stimulation buttons; "Nick" and "Continuous." These are in the perfect location for your pointer and middle finger to rest comfortably on.
One thing that really impressed me is that the Nick button has the letter "N" in raised bumps like braille while the Constant button is smooth. This really helps to identify which button is which by touch, without looking at the remote, so you can keep your eyes where they should be – on your dog(s). Sometimes it's the little things that make a great product!
Pager/Vibration-Only
Many folks use the gray Pager (non-stimulating vibration only) button on the face of the transmitter as a warning to the dog before applying static stimulation. Some folks use it as a "good vibration" feature. This button is in the perfect location for your thumb to press. You can hold the vibration button down for up to 12 seconds before it auto shuts off. Then, you'll have to let it go and press it again for another 12 seconds.
Nick Stimulation
The Nick button sends a split-second signal to the receiver and is a nice feature to get your dog's attention back on you. When training dogs, I prefer the Tapping method and use the Nick feature most of the time.
Continuous Stimulation
The Continuous stimulation button, just like the Pager feature, allows you to hold down the button and give constant stimulation (pressure). It also has the auto safety shut off after 12 seconds of stimulation. This is a great feature for when your dog is in high drive and not responding to the vibration or Nick stimulation.
On/Off Button
On the other side of the Dogtra 1900s transmitter is the blue On/Off button, which makes it easier to save battery when you're taking a break. This button design is quite convenient compared to some of Dogtra's smaller, low-to-medium power units, where you have to touch two red magnet dots together on the transmitter and receiver to turn the components on and off.
Rheostat Stimulation Dial
The precision Rheostat stimulation dial is on the top of the transmitter next to the Lanyard loop and the antenna. The dial isn't free-spinning and takes a bit of effort to turn it, so you don't have to worry about inadvertently changing your stimulation level setting. There is a little fin on the round dial and with some practice, you can use your pointer finger, or even your thumb, to adjust the level, making it a 1-handed operation.
LCD Screen
The face of the Dogtra 1900s transmitter also has a blue backlit LCD screen that illuminates when you tap the On/Off button for 1 second. It shows the exact stimulation level you are on, from 0-127, and a 3-bar low battery indicator.
LED Low-Battery Indicator Light
The Dogtra 1900s e-collar has an LED indicator that flashes Green every 4 seconds when it's on, fully charged, and ready to use. Amber when it's getting low and Red when it needs to be charged. So, between the 3-bar low battery indicator on the LCD screen and the LED indicator lights, you're fully covered where the battery is concerned.
Non-Slip Checkered Grips
Last but not least, the older 1900 NCP version transmitter was only smooth black plastic and could get a bit slippery when wet and in the heat when your palms get sweaty. The new Dogtra 1900s collar has light brown, non-slip checkered grips that solve that issue.
Dogtra 1900s Review – Receiver-Collar
Now, this new style receiver was a nice little surprise. As a test to see how well it would be received in the electronic dog training community, in early 2016, the Dogtra company released this new, ultra-modern, slim-line receiver design in 2 of their models; the low-to-medium power ARC series and the low-to-high-power 1900s series. I think it's now safe to say the improved design was a big hit.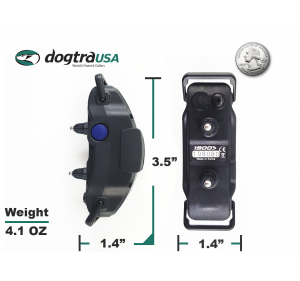 The new, ergonomic Dogtra 1900s receiver-collar is more streamlined than the older box-style receiver. It doesn't get snagged or caught in brush as much when hunting in the field. This allows your dog to work more efficiently and move more freely in heavy cover. Also, the low profile style design curves with the dog's neck, making it more comfortable for the dog to wear for longer periods of time. It is perfect for companion pet owners concerned about what the "uninformed public" might think about using an e-collar as it's hard to tell that it's an "electronic training collar," unless you get up and look at it closely. Hook your dog's tags on the D-ring when out walking off-leash or hiking and it just looks just like a regular collar.
Dogtra 1900s Review – Batteries & Charging
The new longer lasting, 2-hour rapid charge LiPo batteries are another big upgrade from the previous version that used the NiCD batteries that required an overnight charge.
The 1900s units come with a universal charger that can be used with a 110v/220v/240v power source. You'll also find a splitter cable that lets you charge both the receiver-collar and transmitter at the same time. The splitter cable has 3 ends. One end attaches directly to the charger and the other 2 ends plug directly into the transmitter and receiver.
The 2-dog unit comes with 2 splitter cables, so you can charge the transmitter and both receivers at the same time.
Dogtra 1900s Review – Transmit Range
Dogtra 1900s is a mid-long range remote dog training collar. The 3/4 mile range will work for just about any situation from upland and waterfowl hunting to companion dog training in a country setting with lots of room to roam to hiking and walking off leash at the local bark park.
Summary
Overall, I am very pleased with the Dogtra 1900s e-collar. The design is superior to anything else on the market. I have never heard one bad comment about this model and don't have one negative thing to say either.
Whether you want an e-collar to reinforce commands, solve behavioral issues, or keep your gundog focused during the hunt, in my opinion, the Dogtra 1900s is the way to go.
As I mentioned above, the 1900s e-collar is a low to high-power unit designed for all dog temperaments from super soft to tough, high-drive dogs. If your dog is over 35 lbs. and you're unsure about their temperament, Dogtra 1900s is a safe bet.
Recommended Dogtra 1900s Accessories
Biothane Buckle Strap with Bungee & Metal Quick Release strap

Field Auto Charger

Contact Points for Different Fur Lengths
Other Recommended Models
Have a smaller dog with a more sensitive temperament, Dogtra 280C is the best

If you need a bit more range, you might want to consider the Dogtra 3500NCP Super X

Running more than 2 dogs? Check out the long-range Dogtra EDGE series

Upland hunting and need an e-collar to locate up to 2 dogs in tall grass? Consider the Dogtra 2500 T&B Beeper Collar
I hope this Dogtra 1900s review has been helpful. Please feel free to ask me any questions in the comments section below.
Shop now!
Dogtra 1900S / 1902S 3/4 Mile Range 1 Dog Training Collar System